Dear GetWell Friends!
In the 1960s, Better Homes and Gardens Magazine also published many hardbound, oversized recipe books. These can be found in second hand stores for about $1.oo. And they are full of colorful, artistic photos of foods fabulously prepared and arranged. In the following 4 pages, I have used the "Secret Touches for... Hygienizing SAD Fruit & Veggie Recipes" to bring you more fun and fulfilling ideas to try out in your Victory Kitchens! Recipes are taken from the following titles: Better Homes and Gardens Salad Book, Better Homes and Gardens Vegetable Cook Book, and Better Homes and Gardens So Good with Fruit. E-N-J-O-Y!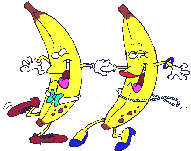 Let's serve some... Fruit Salad Recipes for you!
PAPAYA DREAM
Halve lengthwise and seed 2 chilled papayas. Sprinkle with 4 teaspoons lime juice. Fill centers of papayas with 1 cup sliced strawberries. Sprinkle with chopped dates. Serve on butter lettuce leaves with a rib of celery. Serves 2 - 4.
RAINBOW MELON JULEP
Combine 1/4 cup from The GetWell StayWell Sugar Bowl, 1 teaspoon shredded orange peel, 1/2 cup orange juice, 1 teaspoon shredded lime peel, 2 tablespoons lime juice, and 1 tablespoon chopped, fresh mint. Pour over 4 cups of watermelon, cantaloupe, and honeydew melon balls. Chill at least 2 hours. Garnish with fresh mint sprigs. Serves 2 - 4.
FALL FRUIT MEDLEY
2 cups sliced peaches or apples
1 cup diced pears
1 cup fresh or frozen blueberries
1/2 cup lemon juice
Mix the fruit in a bowl. Combine with lemon juice, toss, chill. Serve with The GetWellHStayWell Sugar Bowl on the table for those who have not yet figured out that a fruit salad needs no sweetening! Serves 2 - 4.
APPETIZERS for 1...
MELON COCKTAIL
Combine cantaloupe balls and watermelon balls. Dash melon balls with lime juice to taste. Chill thoroughly.
STRAWBERRY STARTER
Start with 10 strawberries. Serve with banana ice cream and crushed walnuts.
BLUE HONEYDEW CUP
Combine honeydew melon balls, blueberries, and shredded coconut. Serve with lime wedges to squeeze over the fruit and romaine lettuce.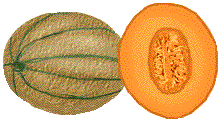 FIGGY FRUIT CUP
Combine raspberries, nectarine slices, and small chunks of pineapple. Garnish with 3 figs. Tuck a sprig of fresh mint into the fig tops.
BANANABERRY CUP
Squeeze lemon juice over 1 sliced banana. Combine with 1 cup blackberries. Drizzle with 1/2 cup orange juice, mixed with 1/2 cup banana ice cream. Top with chopped pecans.
CANTALOUPE SUPREME Cut icy cold cantaloupe into wedges. Trim with a cluster of green grapes.
SPICY PERSIMMON SOUP
4 large, super-soft persimmons
2 cups tangerine juice
2 Tablespoons lime juice
1/4 teaspoon cinnamon powder
In a blender container, combine all ingredients until thoroughly pureed. Serve in bowls. Garnish with lime wedges and tangerine slices with a bowl of lettuce and celery for all. Serves 2 to 4.
AVOMATO SOUP
2 avocados
1/2 cup thick Nut Milk of choice
1 cup grape juice
3 medium tomatoes, diced
1 Tablespoon lemon juice
1/4 cup minced green onion
Blend avocados, Nut Milk, and grapes. Stir in tomatoes and lemon juice. Chill thoroughly. Serve in bowls and sprinkle minced onion on top of soup. Serves 4 to 6.
TANGERINE WALNUT TOSS
1 head torn butter lettuce
3 cups tangerine sections
1 cup walnut halves
Toss lettuce and tangerines with dressing of your choice. See Chapter 10 of The YearBook for so many salad dressing ideas! Serves 3.