The GetWell GrassRoots Victory Wagon Campaign!
In 1976, the haunting feeling and voice that had been following me during my 10 years of teaching English to high school students and that had been telling me that I was not teaching what I was supposed to be teaching, changed its tune! The summer of '76 led me to Dr. Shelton's Health School where I took my first fast of 17 days. During one of Dr. Vetrano's lectures one day, halfway into the fast, the haunting feeling turned into a focused force! And the voice clearly whispered in my ear: "THIS is what you are supposed to be teaching!" And then, during an afternoon meditation a few days later, still while fasting, I experienced a crystal-clear and full-color vision of myself filled with the natural joy and Cosmic-Given power (I wasn't a Christian yet only a New Ager!) of having answered life's calling driving a huge motorhome across a map of The United States! In this vision, I had the distinct feeling that everything I needed was in that motorhome to write updated, happy, inviting, high-quality, and HygieneHPure materials for Americans! In this vision, I knew I would be speaking to large groups of people, introducing "The Common Health Sense of Natural Hygiene" especially in schools, to students and teachers alike, where the need is great. I was so thrilled to have finally found what it was I was supposed to be doing with my life! Still, I spent 8 years before making any visible progress. Becoming a Christian in 1984 and dedicating my life to helping others, rather than pleasure-seeking for myself, set me in the right direction.
Just think of it! The mere presence of The Victory Wagon, driven up to the curb of newspaper and media stations, inspires journalists and radio and T.V. personalities alike, to jump at the chance to interview Dr. GetWell dressed up in Red White Hand Blue as she shares just about the greatest of all human interest stories... Just exactly how to GetWell & StayWell without drug and doctor dependency and with Natural Hygiene and Affirmations! Indeed, The Victory Wagon is a rockin' and rollin' Affirmation for The American People and you and me, and it travels via The Hygiene Joy Way!
God Bless The U.S.A. Victoria!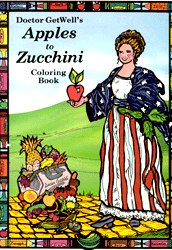 In 1986, I created GetWell StayWell, America! and published her first 2 books. In 1990, The YearBook was born. And The GetWell GrassRoots Victory Wagon, decidedly God-Sent, materialized. Finally, today, in 1993, The Victory Wagon has been painted to become undoubtedly the most artistic, upbeat, outrageously joyful, traveling "BidWell BillBoard" for... "God, Health & Country" America has ever seen! The GetWell GrassRoots Victory Wagon and "Dr. GetWell's Traveling UnMedicine Show" will bring Hygiene Joy! to The Suffering Class of America and to Health Seekers Everywhere!